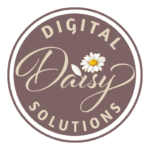 Virtual Assistant Services ... and SO much more!
Daisy Digital Solutions provides various Virtual Assistant Services, to help you, as a Business Owner with the day-to-day running of your business.
Which of your back-office / admin tasks would you love to have taken off your plate? 
Whether it's website support, book-keeping or business admin, I can take those tasks off your plate for you, giving you that time back to concentrate on building your business or alternatively, spending time AWAY from your business with family or friends.
I love to learn new skills, so if you need help with a platform which isn't listed in my list of services, please feel free to ask.
All services will be carried out remotely, so your workload can even be reducing whilst you are spending time away from work, with family or friends!
What would you do with all of that reclaimed time?
Relax ... and let me do the work for you
Suzanne has helped me on an adhoc basis with IT support for Microsoft 365. She is very friendly, flexible and supportive and helps you run through all troubleshooting queries that one might have with IT! I definitely would recommend her